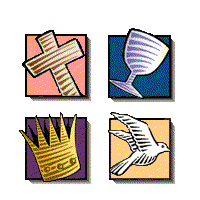 Lion of Judah Foursquare Church
Built on the Rock!

THIS WEB SITE WILL BE MOVING SHORTLY TO AN EASIER TO REMEMBER URL:
(June 4, 1998)
Welcome to the Lion of Judah web site. Our Pastor is Rev. Benjamin Lagasca. This year will be our fourth year in existence and we thank God for all of His faithfulness and the faithfulness of His children. We meet every Sunday at the Hilton Hotel in Newark, California from 10:00 AM to 12:30 PM.
If you have a prayer request, e-mail us at LOJ4square@hotmail.com


Click one of these to enhance this site and many others!
View My Guestbook

Sign My Guestbook
Jesus Christ is the same yesterday, today, and forever. -Hebrews 13:8


If there's something wrong with this site, please feel free to e-mail me at praisepnoy@hotmail.com
Service Times / How can I reach you? / What We Believe / What does those 4 squares mean?
Who started the Foursquare Gospel? / Christian Links / Home
Site maintained by Ryan Pons
Last updated on June 4, 1998 - 3:57 p.m.